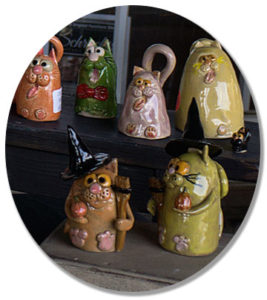 Chessima Cats and Critters are here!
Each Chessima Cat is lovingly handmade and unique. If you see a Chessima Critter that you just can't live without, get it quickly. It may not be there when you return. These little guys are lovingly designed to have personality and charm. Every feature is added by hand. No molds are used, so your Chessima Cat or Critter will be unlike any other. Take a look, but beware, you may just fall in love with a Chessima Cat or Critter!
Sold exclusively through me at shows or at Wendell August Forge, Berlin, OH.
Chessima Cats are designed to have attitude. There are happy cats, grouchy cats, obstinate and impish cats. They are smiling, grimacing, and menacingly sticking out their tongues. Some are little witch cats, some are dressed to the nines, others sport Santa beards or winter garb. There are even chef cats holding today's catch, ready for the grill! Whatever your desire, there is a Chessima Cat for you to fall in love with. And you never need to clean up hair balls or litter!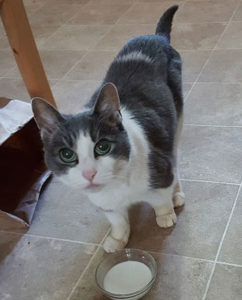 Why are they called Chessima Cats?
Well, there is this lovely little girl in my life who has been my companion for nearly 2 decades. She has been my inspiration for the attitudes for my Chessima Cats. Chessima was a tiny kitten who had been abandoned at Nimisilla Lake. She was found scampering in fear across the parking lot outside the camping grounds at Nimisilla. My cousin, who was with me at the time, gathered the tiny being up and put her in my car. That was fall 1999. I fell in love with the big woeful eyes and impish spirit. I named her Chessima Nimisilla, and to this day Chessie sits on the arm of my big fluffy chair and curls up next to me at night. She plays with her buddy Anastasia, our gorgeous rescue Ragdoll Siamese, who also inspires some of the funny faces I design in my Chessima Cats.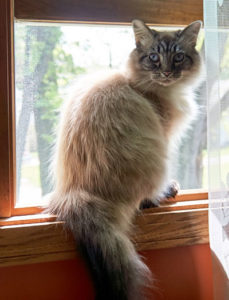 Anastasia Bastet (Annie) came to us in the late fall of 2015. She showed up on the back porch of my mother's home and refused to leave. We had just lost 2 kitties who had been part of the family for 15 years to cancer. My husband, Gawaine, and I were still mourning the loss of Zipper and Dash and were not ready to take on another cat. But Annie stayed and begged for food and shelter. Mom placed a shelter on her porch for Annie, and fed her daily. When I visited Mom I tried to ignore Annie, but she was so beautiful and insistent that one day in early December, as the weather was about to turn very cold, I stepped out on the porch. I sat down and Annie immediately jumped on my lap and began purring and rubbing against me lovingly. I was hooked. I called my husband, we got the cat carrier, scooped her up and took her immediately to the vet, who assessed her as being very healthy, spayed and ready to become a pet. The girls at the front desk of the veterinary clinic remarked at her beauty.
The next obstacle was to introduce Annie to Chessie with minimal stress to both. We put Annie in the basement with plenty of food and a litter box, and put a screen across the door so the two ladies could get to know each other without actually having access to each other. My husband and I took turns visiting Annie in the basement and giving her the love and attention she had been without when she lived outside at Mom's. Our plan worked to introduce the two ladies to each other. There was minor hissing, but within about 2 weeks we removed the barrier and the two have been buddies ever since. There are scuffles occasionally, but they are much more playful than confrontational.  They are buddies with oodles pf personality and provide unconditional love and lots of entertainment and inspiration. I often call them my muses (mewses). It was from the interaction with my precious feline companions through the years, that Chessima Cats emerged. And, as a tribute to Ms. Chessima Nimisilla, I gave them her name.
Sadly, our beautiful Anastasia Bastet lost a battle with cancer in April of this year. She was only 4 years old. She is deeply and sadly missed, but will always remain a muse (mews) for my ceramic kitties.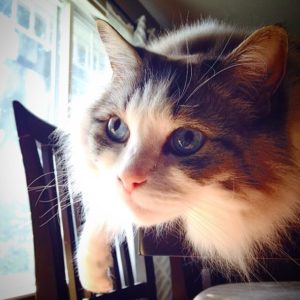 Today is Happy Gizmo Day! November 19. 2017, our new furbaby boy arrived today. Gizmo is an 8-year-old rag doll with beautiful big eyes and a pretty pink nose. He had to be rehomed because of the trauma of living with 2 great Danes and a 1-year-old child. He is going through the same introduction process that Annie did, with the nice warm bed in the basement with plenty of food and water, and a litter box. Eventually he and Chess will meet, but not until they are both ready. I can tell already that we are going to love him a lot!!
Right now (November 19) he is on the 4th step from the bottom in the basement. I know eventually he will enjoy his run of the house, but for now he is settling in.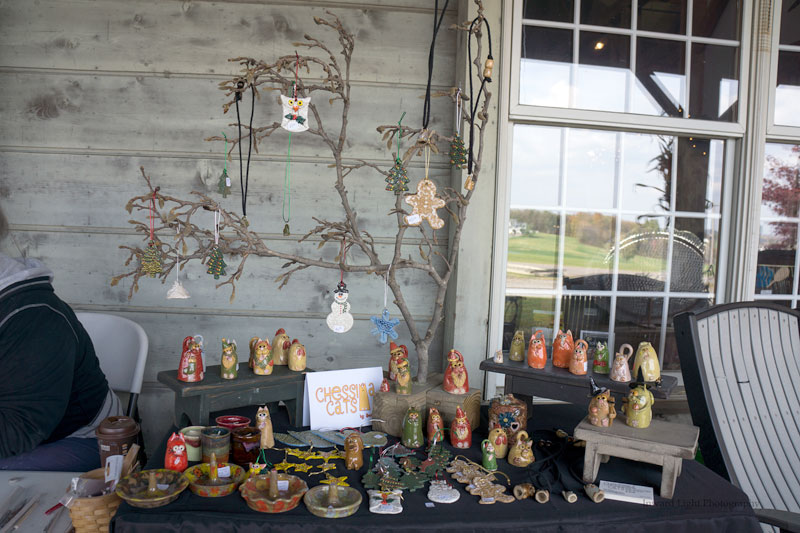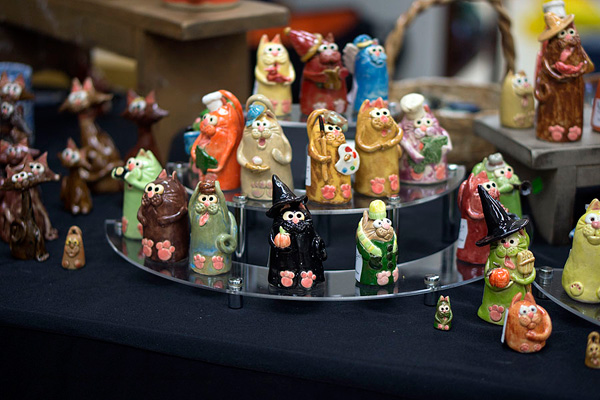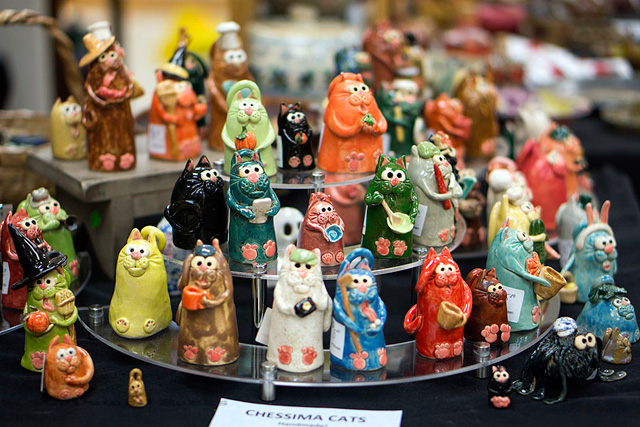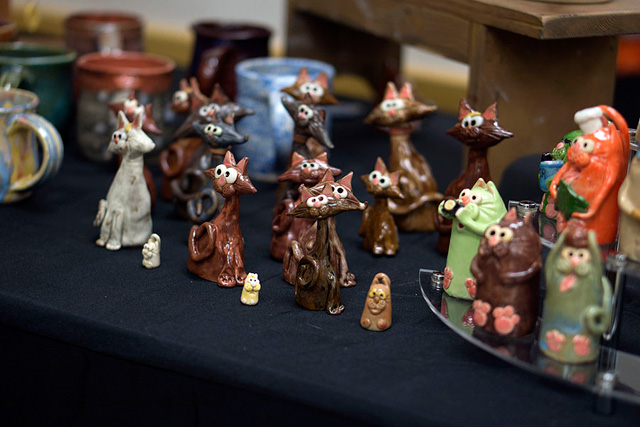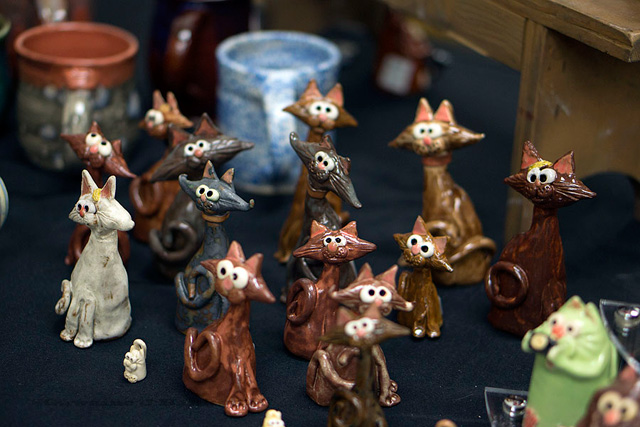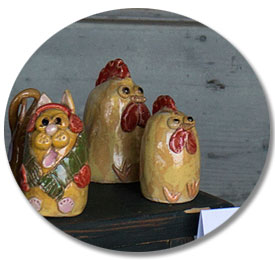 Photos by Gawaine Banks, Inward Light Photography